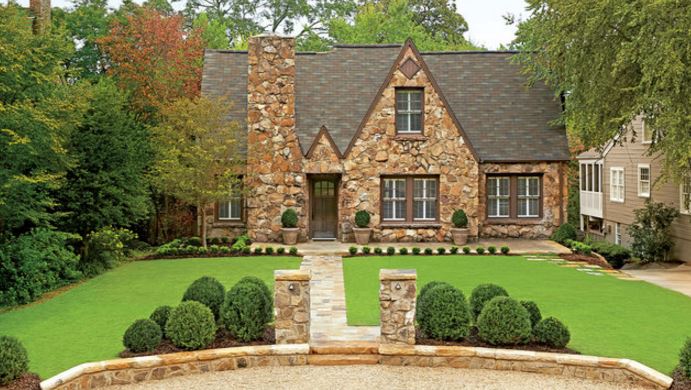 When it comes to curb appeal, there are several minor, low-cost improvements that you can do in order to instantly add a new look to your home. Not only will adding curb appeal make your home easier to sell, but it will also allow your home to have that nice, finished look that you we all love take pride in. When you make the decision to embark on the DIY project (s) make sure you have a clear understanding of what you want your home to look like when it's all said and done.
Here are a few DIY home improvement projects that, surprisingly, all cost under ($100) and will help add instant curb appeal to your lovely home.
Give the front door a fresh paint job; Paint The Shutters and (or) trim
When it comes to exterior paint you're going to be looking around $20-$25 a gallon depending on where you shop. If you're looking to add a fresh new coat of paint to your door, trim, and shutters it should cost you no more than $100, unless you are living in a mansion type house. Painting the exterior of your home can definitely add a new and improved look with the brightness to revive and make your home stand out among the rest. A lot of homeowners will pick a bold color in order for their home stick out, but just make sure that you match whatever color you use to the colors on the rest of the house. Keep in mind that this type of project will most likely take several hours depending on how much you choose to paint, so plan accordingly!
Plant a Tree
Planting a few trees in the yard is one of the most common ways that homeowners can add curb appeal to their homes. This is a cheap and effective home improvement project that can really liven up the way your home is viewed. Before you go off putting tree after tree in your yard, be sure and have a firm understanding of how big these trees will grow and how that may (or may not) affect the view of your home. If you have an adequate amount of room, you can plant two trees to frame your home or your entryway into your house! This is always an uncommon look and is reviving for curb appeal! You can find quality trees to add curb appeal to home starting out at $20. This is a rather quick home improvement that causes very little work and can add tremendous value.
Install Flower Boxes
If you feel that your home is not standing up to its true potential, then try adding some flower boxes to instantly add a fresh new look. Mount the flower boxes in the windows of your home or even on the front porch railings. These flower boxes can usually be found for dirt cheap and can cost anywhere from $15-$30 depending on where and what you purchase. As great as flower boxes may be, there are some things to take into consideration before going this route. Keep in mind that you will still have to pay for all of the flowers and soil for inside the boxes and also have consistent up keep to ensure the flowers stay alive and garden-fresh. If you decide not to add flower boxes to your home, you can always consider purchasing some container gardens in pots and putting them on the porch or the front steps.
Get Rid Of The "Old" Exterior Light
It is absolutely critical to consider both the style of light fixtures as well as the function when it comes to making a purchase for new exterior lights on your home. The goal is to have some light fixtures that will add to the beauty of your home while at the same time adequately light up the entryway to your house and make it safer. Another thing to keep in mind when purchasing new light fixtures is to search for the same type of mounting system as the current ones you have. This will end up saving you both time and money on this simple home improvement project! Exterior light fixtures typically range anywhere from $25 dollars and up.
Do Away With The Old, Word Down House Numbers
Let's face it, no one is going to notice old or faded house numbers when they drive by your home. Do yourself a favor and make sure that this is not a burden to the view of your beautiful home. Buy some new house numbers to spruce up the curb appeal of your house. In my personal opinion, some of the best material money can buy (in regards to house numbers) is going to be made from aluminum, stainless steel, or brass. It's a good idea to try and match your new numbers with the finish that is on your exterior light fixtures in order to maximize your curb appeal.
Upgrade To A New And Improved Mailbox
When we talk about upgrading a new mailbox, it doesn't matter if your mailbox is positioned by the road or if you have a box mounted to your house. Installing a new and improved mailbox will make your home feel upgraded, clean, and eye-catching for those driving by. A new mailbox can be purchased anywhere from $15-$100. Always remember that there a specific city regulations that are set forth in the city you live in, so be sure that you are following the guidelines of your particular area. If you are a homeowner who has a mailbox that is mounted to your house, this quick project should take less than an hour to finish. On the other hand, if you have a full-sized mailbox at the end of the driveway, plan for at least two hours or so to finish this easy and effective home improvement project.
Our company would be honored to see how we can help you achieve your real estate goals.
For a FREE, NO HASSLE, NO OBLIGATION Buyer/Seller Market Consultation give us a call today at
(844)-SOMERIK.
We look forward to seeing how we can deliver you with the real estate service you deserve.
-Somerik Realty